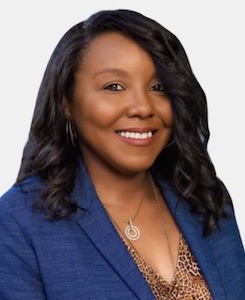 Kalandra N. Wheeler
Employment Lawyer
Kalandra N. Wheeler is a senior trial attorney with the Houston office of Wiley Wheeler, P.C. Possessing over 18 years of experience representing clients in difficult situations, Ms. Wheeler is fueled by the desire to protect individual rights. At Wiley Wheeler, P.C., Ms. Wheeler's aim is to help employees understand the law as it relates to them and navigate legal processes that are often stressful and confusing.
Ms. Wheeler is board certified as a specialist in labor and employment law by the Texas Board of Legal Specialization. Ms. Wheeler has been recognized by Thompson Reuters as a Super Lawyer from 2020 to the present. Prior to being recognized as a Super Lawyer, from 2017 through 2019, she was recognized by the same publication as a Rising Star. In 2013, Ms. Wheeler was voted by her peers to Fort Worth Magazine's Top Attorney list.
Ms. Wheeler represents employees with various types of legal claims, including but not limited to those falling under Title VII of the Civil Rights Act of 1964 (race, color, religion, sex and national origin), the Family and Medical Leave Act (FMLA), the Age Discrimination in Employment Act (ADEA), the Americans with Disabilities Act Amendments Act (ADAAA), and the Fair Labor Standards Act (FLSA). Ms. Wheeler represents employees in various forums that include state court, federal court, and administrative proceedings before the U.S. Equal Employment Opportunity Commission and the Texas Workforce Commission.
Ms. Wheeler began her legal career in 2005 as a criminal defense attorney protecting the rights of her clients in the criminal justice system. For many years, Ms. Wheeler fought to protect clients from wrongful criminal convictions and to make sure her clients were treated fairly. Additionally, Ms. Wheeler represented countless clients before Administrative Law Judges of the Texas State Office of Administrative Hearings. In a system where the odds were against her clients, Ms. Wheeler's knowledge of law and procedure, along with her attention to detail when examining the evidence, resulted in numerous favorable administrative rulings. Due to her successes with administrative hearings, Ms. Wheeler was invited by the Tarrant County Criminal Defense Lawyer's Association to speak and share her methods with other lawyers.
Wanting to grow her career and to help more individuals, Ms. Wheeler translated her many years of experience into becoming an advocate for employees. She not only helps employees understand the law, but also provides valuable counsel to the workers she meets. It is not always protections under the law that gets a worker through difficult times, but sometimes recovery and forward progress for an employee begins with a listening ear and sound advice. When employees are terminated after long careers with their employers, face harassment or hostility in the workplace, are subjected to unlawful discrimination, or face retaliation for standing up against injustice, the experiences can be quite emotional. It may be difficult to understand and accept that some circumstances amount to unlawful actions by the employer, while others do not. In order to be the advocate employees need, Ms. Wheeler offers honest, valuable advice to help employees seeking guidance to understand their rights where the law provides protections and their options even when the law falls short. Ms. Wheeler strives to put power into the hands of all workers by giving them the information – and where possible the tools – necessary to make sound decisions for themselves and their families.
Ms. Wheeler received her B.S. in Political Science from the University of Houston and her J.D. from the University of Arkansas School of Law in Fayetteville. Ms. Wheeler is licensed to practice law in the state of Texas. Additionally, she is admitted to practice before all Federal District Courts in the state of Texas.
Education
J.D., University of Arkansas School of Law (Fayetteville), 2005
Dean's List (throughout)
University of Arkansas Thurgood Marshall Mock Trial Team, Spring 2005

(Mid-West Regional Champions and National Finalist)
Nominated for the Jessup Moot Court Team, Fall 2003
Student Member of W. B. Putman American Inns of Court, 2004-05
Black Law Students Association, Member
Student Attorney – Federal Practice, Criminal Prosecution, and Civil Practice Clinics, 2003-2004
Intern – Judge Richard Taylor, United States Bankruptcy Court, 2005
B.S., University of Houston, 2001
Jurisdictions Admitted to Practice State of Texas , 2005
U.S. District Court Northern District of Texas, 2014
U.S. District Court Eastern District of Texas, 2014
U.S. District Court Southern District of Texas, 2016
U.S. District Court Western District of Texas , 2018

Professional & Bar Association Memberships
National Employment Lawyers' Association
National Employment Lawyers' Association – Houston Chapter
Texas Employment Lawyers' Association
Texas Bar College
Houston Bar Association
American Bar Association
Presentations / Engagements
"Candid Conversations" – Texas Tech School of Law, Black Law Students Associations, 2022
"Remedying Bias & Inequality in the Legal System" – Texas Tech School of Law Panel 2016
"I Did it, But..." – Rob Wiley, P.C. – Fifth Circuit Winners' Rules Conference 2015
"Winning ALR Strategies" – Tarrant County Criminal Defense Lawyers Monthly Luncheon 2014