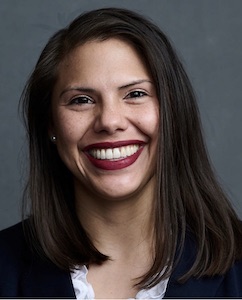 Paige E. Melendez
Employment Lawyer
Paige E. Melendez works as a trial attorney at the Houston, Texas office of Wiley Wheeler, P.C. As an attorney, Ms. Melendez is committed to listening to each client's story, evaluating it, and proposing and executing practical steps to meet client goals. The cornerstone to a successful attorney-client relationship, in Ms. Melendez's opinion, is creating clear lines of communication to help build trust between her and her clients.
Ms. Melendez practices plaintiff's side employment and labor law. She represents clients with Title VII claims including claims of pregnancy discrimination and discrimination based on race, color, sex (including sexual orientation and gender identity), national origin, and religion. Ms. Melendez also represents clients on claims based on disability discrimination or failure to provide a reasonable accommodation under the Americans with Disabilities Act (ADA). In addition, she represents clients with claims under the Family Medical Leave Act (FMLA), age discrimination claims under the Age Discrimination in Employment Act (ADEA), equal pay claims, as well as other employment claims like those under the Fair Labor Standards Act (FLSA) and the National Labor Relations Act (NLRA). Finally, Ms. Melendez represents clients in multiple forums from state courts to federal courts to administrative proceedings in front of bodies like the Texas Workforce Commission (TWC) and the Equal Employment Opportunity Commission (EEOC).
Ms. Melendez graduated magna cum laude and Phi Beta Kappa from Texas A&M University with a Bachelor of Arts in Political Science and Women and Gender Studies. During her time there, she exemplified the Aggie spirit by being involved in two of the largest on-campus organizations. As part of the Student Government Association (SGA), she began advocating on behalf of students as an elected student senator and then finished her time in SGA as the Vice President for Finance. She also helped plan and run orientation for over 10,000 incoming freshmen and their families. The most important thing Ms. Melendez did at Texas A&M, however, was find her passion for employment and labor law after taking a class that explored instances of discrimination in everyday life. After that class, Ms. Melendez discovered that she could pursue her desire to help people with her career through working as an employment and labor law attorney.
Once she graduated from Texas A&M, Ms. Melendez set out to make her career goals a reality and attended law school at The University of Texas School of Law. Over her time at Texas Law, Ms. Melendez logged over 100 hours of pro bono work and graduated with Pro Bono Honors along with her Juris Doctorate. A rarity, Ms. Melendez entered Texas Law knowing what type of law she wanted to practice. Even more rare was the fact that she followed her passion for employment and labor law through law school. To pursue this goal, she sought out opportunities to hone her skills in her chosen field. First, she participated in the Transnational Workers' Rights Clinic, which partners with the Equal Justice Center, a non-profit law firm in Austin dedicated to representing indigent clients with employment issues. At the Clinic, Ms. Melendez split her time between attending class and receiving hands-on experience with employment law at the Equal Justice Center. Next, she interned at the Equal Employment Opportunity Commission (EEOC) in Houston, Texas. The EEOC is a federal agency dedicated to investigating and litigating plaintiff's employment claims. She spent the summer in the litigation unit getting to know the ins and outs of the agency, while also gaining valuable skills in advocacy. Each of these experiences coupled with her coursework helped solidify her desire to pursue employment and labor law as a way to help as many people as she possibly can. Now, Ms. Melendez practices in her preferred field and looks forward to helping as many employees and workers as possible in their employment and labor law disputes!
Education
J.D., The University of Texas School of Law, 2020
B.A., Texas A&M University, 2015
Magna Cum Laude
Phi Beta Kappa
Jurisdictions Admitted to Practice State Bar of Texas, 2020
Northern District of Texas, 2021
Eastern District of Texas, 2021
Western District of Texas, 2021

Professional & Bar Association Memberships
Dallas Bar Association
National Employment Lawyers' Association
Texas Employment Lawyers' Association